About 5th Street Steakhouse
Our Story
5th Street Steakhouse is a locally owned and operated restaurant. We feature U.S.D.A. Prime Cuts of Beef, Fresh Seafood, a full service bar , and an extensive wine list. We pride ourselves in personal service matched with the finest quality food. We're looking forward to seeing you soon.
The 5th Street Steakhouse is located in the picturesque downtown Chico. Since August 2000, the owners of this restaurant have prided themselves in providing the best quality cuisine in town. As a restaurant, our satisfaction comes from the finest service that will make any experience with us memorable.
We are now excited to offer our services for private events during breakfast, lunch or dinner. The 5th Street Steakhouse Banquet Room is attached to the main dining room area, but provides a private section for your special event. Our facility is perfect for birthdays, wedding rehearsal dinners, anniversaries, religious celebrations, graduations, fundraisers, holiday parties, and private meetings. We also offer a full projection system for your convenience. With an array of menu options and an extensive wine list, we are sure that you will find us to be the ideal fit for your event.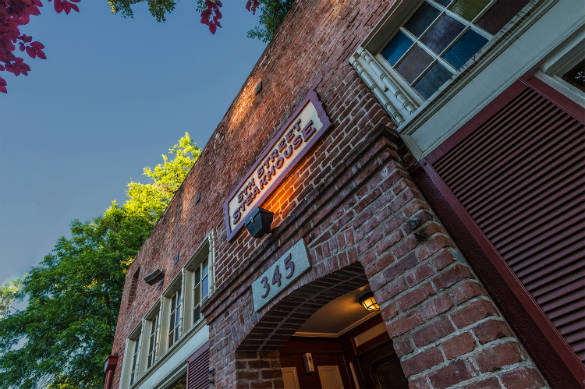 Hours & Menu
Tuesday
4:30 pm - 9:00 pm
Wednesday
4:30 pm - 9:00 pm
Thursday
4:30 pm - 9:00 pm
Friday
11:00 AM - 2:00 PM
4:30 pm - 10:00 pm
Saturday
4:30 pm - 10:00 pm

" Mouth-watering filet mignon. Juicy New York strip. Mole-crusted ribeye. We're getting hungry just thinking about it. Chicoans are loyal to 5th Street, which serves up USDA prime cuts of beef, fresh seafood and delicious wines. The restaurant, which opened a second location—dubbed the Sutter Street Steakhouse — in Folsom earlier this year, celebrated 10 years last month. Happy birthday, 5th Street! "
Best of Chico 2010 - Best Local Restaurant

" Who doesn't love a good, juicy steak? OK, vegetarians, you're exempt. But for the rest of us meat lovers, it doesn't get much better than 5th Street Steak House, where the filet mignon comes out nice and pink, accompanied by any variety of a la carte side dishes. And don't forget the wine - this is a date place extraordinaire, the true definition of wining and dining. "
Best of Chico 2009 - Best Local Restaurant

" Best filet and garlic mashed potatoes ever (in 4 reviews) "

" great atmosphere, great drinks, great service, great steaks (in 6 reviews) "
" My roommate and brother took me to 5th Street for my birthday last weekend. There was a 90 min wait on a Sat night, but I have to admit it was worth it. Get there early, have a drink at the wonderful bar, and maybe start with an appetizer (the calamari is fantastic). I had one of the specials of the day which were melt in your mouth scallops. It came with risotto and broccolini. Their special salad with pears was truly amazing. Well worth the wait, but I'd suggest if you're in a hurry to make reservations which are accepted Sun-Thurs "
" Everytime I'm up in Chico I look forward to going to 5th Street Steakhouse. The BBQ Prawn appetizer is incredible, and I love the Chopped Wedge Salad. They have a fantastic wine list with something for everyone. Prices are very reasonable compared to the 'Big' Steak Houses popping up everywhere, and I believe the food is better as well... The last time I was there I had a special filet with cheddar polenta and arugula. It was incredible the way the arugula enhanced the flavor of the beef. Excellent... Now if I could just figure out how to make it at home. I hear a rumor they're coming to Folsom and I'm already telling my friends who are all very excited to have such an outstanding restaurant coming to our little town! "
" This is the best restaurant to come to in Chico. I would suggest their filet. The flavor is like none I have ever had and I have had a few steaks in my day... Not one of their appetizers will disappoint you. For sides they have a huge baked potato, fries (to die for), you can get vegetables, and they have a little delight called potato cakes which is one of my personal favorites to mix things up... Do yourself a favor and visit this fine establishment. "
" Best Steaks anywhere. One of the few North Valley restaurants that not only knows what Dubonnet is, but also stocks it at the bar. I've had steaks from San Francisco, to Chicago, to St. Louis and to New York. This restaurant gets it consistently right (over a 3-year period). The garlic mashed potatoes are wonderful. "
" BEST restaurant in Chico (Nov 22, 2006). Not even a contest, great atmosphere, great drinks, great service, great steaks. The salmon with the cream cheese top is one of the best fish dishes I have ever had. The brownie sundae is worth selling a child over. If you are trying to save cash, sit at the bar and order drinks and a burger (it comes with melted blue cheese and bacon). It is amazing! "
" Honestly one of the best restaurants in Chico (actually as good or better than any in the city) and worth the money. Beautiful room, open kitchen and super-pro staff. Everything on the menu is amazing! The Nick's Grill is excellent. They also do fish right. Make sure to get the garlic spinach and also the shoestring onion rings even as a side. Seriously... Desserts are top notch. "
Gift Cards
Share us
Want to share us with a friend or family member? We offer gift cards to make it simple. Great for birthdays, anniversaries, and company parties. Our food tastes great on any occasion!
For payment, we accept all major credit cards. It's fast, easy, secure, and free!
Contact
Sorry, we DO NOT take reservation requests on our website.
We take reservations 7 days per week. Please give us a call at (530) 891-MEAT
We gladly accept Visa, Mastercard, and American Express. Sorry, no personal checks. $5 is charged for split orders. Sorry, we cannot split checks on parties of 6 or more.
Want to review your dining experience?
Click here
to fill out a comment card.